Ad Blocker Detected
Our website is made possible by displaying online advertisements to our visitors. Please consider supporting us by disabling your ad blocker.
Whether it's discovering more Black-owned fashion brands, exploring different Asian-owned brands for your everyday essentials or opting for gifts from BIPOC-owned businesses, supporting businesses owned by those part of historically marginalized communities is one of the easiest ways to champion these communities and the individuals who comprise them. Plus, it's a great way to discover fantastic products.
That's why we've rounded up 22 of our favorite women-owned beauty brands, all of which you can explore and support below. We also heard from the founders and CEOs on how their identity as a woman has impacted or influenced their success — from prioritizing a community of support and empathy to redefining standards of beauty that are inextricably linked to white supremacy and patriarchal ideals.
Kulfi
Great eyeliner pencils are hard to come by, which is why we keep singing Kulfi's praises. The brand's kajal eyeliners are super creamy, long-wearing, pigmented and perfect for achieving that on-trend blended cat-eye. While the black and brown shades are must-have makeup bag staples, the other colors (the blue in particular) are winners and perfect for more experimental, creative looks.
"As a South Asian woman, I didn't see myself in the beauty industry I worked in: in beauty media or tastemaking or executive teams at beauty companies," shares founder Priyanka Ganjoo. "I didn't feel beautiful growing up because I didn't see myself in beauty magazines that pushed a Eurocentric beauty standard." These experiences, combined with a lack of makeup products that worked with different skin tones and undertones, led Ganjoo to start Kulfi.
"We are celebrating and centering South Asian beauty and culture," Ganjoo shares. She explains how the brand's launch was around a message of defining beauty through one's own gaze as a challenge to "the patriarchal lens that has been imposed on women and gender-expansive people of color."
Bloomeffects
"Bloomeffects was born out of equal parts love story and scientific breakthrough," shares founder Kim van Haaster. She recalls launching her brand the same year she was pregnant with her daughter, and seeing the world and her brand through a new lens — one that had her questioning what kind of world she wanted to create for her daughter.
Today, people around the world love Bloomeffects' award-winning beauty products for how clean, sustainable and effective they are. And personally, the Tulip Tint Lip & Cheek Balm is everything you need for those naturally flushed, glowing-from-within, no-makeup makeup days.
"From a product standpoint, many of our products were actually developed out of necessity during my pregnancy — like our Tulip Nectar Skin Repair Body Balm," van Haaster explains. "As a woman, it was even more important during that time to create safe products that really worked and were enjoyable to use."
Danessa Myricks Beauty
Known for her creative, colorful and radiant looks, Danessa Myricks took her chops as a professional makeup artist to start her eponymous brand, Danessa Myricks Beauty. Focused on multipurpose products that work for everyone, her brand epitomizes versatility and accessibility.
A key example of this? The brand's award-winning Colorfix Eye, Cheek & Lip Cream Pigment, which can be used as an eye shadow, lip color and blush — all while being waterproof and long-wearing. It's the perfect product if you're looking to slim down your beauty routine or rock a dewy monochrome look, which is totally in style right now.
Touchland
Hand sanitizer has become an unavoidable part of our daily lives, which is why Touchland is one of our favorite recent discoveries. It's hand sanitizer that doesn't just keep your hands clean — it helps them stay soft, comfortable and smelling oh-so-good. The packaging is intuitive and chic, the micro-mist makes application a dream and, overall, Touchland just makes applying hand sanitizer a joy, which is truly priceless.
"Like many women leaders, tapping into my emotional intelligence has been instrumental in Touchland's success to date," shares Andrea Lisbona, CEO and founder of Touchland. "While I am someone who has strong values and is aggressive — and someone who considers herself fearless — I am at the same time compassionate and nurturing." This idea of meeting her team members where they are and taking into account their feelings (both in the day-to-day operations and as part of Touchland's bigger shared vision) has been key to the brand's success, Lisbona explains.
Hero Cosmetics
For those of us with sensitive skin, introducing new products can be stressful — even when their aim is to help. That's why we love Hero Cosmetics and its gentle, shockingly affordable skin care products that repair your skin by working with it as opposed to against it. The brand is best known for its Mighty Patch line of products, commonly referred to as pimple patches that pull the icky out of your spots overnight so you can wake up blemish-free, without any popping or squeezing.
"The beauty and personal care industry is full of amazing women, and it is a great honor to have founded a brand where 72% of the team identifies as female," shares founder Ju Rhyu. "Women have a lot of strengths, such as intuition, listening and communication skills and empathy — these are things that I try to put into practice but also mark as important in the Hero culture. … Being female-led has had a lot to do with not only our financial success but also our strong culture."
Briogeo
Briogeo was born from the need for hair products that could work for every hair type. Founder Nancy Twine realized that there was an opportunity to impact that natural beauty world with clean, plant-based hair care that wouldn't just work with but enhance all different hair types. Fast forward, and Briogeo is a cult-fave brand known for its range of products that work for just about anyone — our personal fave is the Don't Despair, Repair! Collection, which is oh-so-nourishing and truly revives dry and damaged hair.
"Like many entrepreneurs, I've faced obstacles and setbacks, but I never let the disappointments get in the way of me ultimately chasing my goals and achieving success with Briogeo," shares Twine. "Any dream is possible with hard work, discipline and the right mindset."
Twine also credits fellow beauty founder friends, noting that success is never found alone. "We test and promote each other's products while also sharing business perspectives and celebrating each other's wins. People falsely assume that you need to be competitive in the beauty industry in order to survive, but every brand has its own unique story and products, and there is room for everyone here."
Chillhouse
Cyndi Ramirez-Fulton founded Chillhouse in 2017 as a destination in New York City for all things self-care — think manis and pedis, facials and massages. Today, its flagship location in SoHo is thriving, and the brand has expanded and now offers a full suite of products you can enjoy anywhere in the world.
The brand's Chill Tips — reusable, press-on nails — are some of our favorite press-on nails on the market. The designs are chic yet unique, and the application is intuitive yet super durable — we once had a set that lasted a whole month.
Ranavat
"Ranavat is inspired by rich cultural traditions that have been forged and perfected by generations of women over thousands of years," shares founder Michelle Ranavat. The brand's super-luxe skin and hair care products are all about the best ingredients and high efficacy. All the formulas are made in India using naturally sourced ingredients, each of which has been strategically picked and methodically extracted.
"Building a beauty brand that's rooted in Ayurvedic practices makes me feel even more connected to my own heritage, and specifically to all the powerful women in my life," shares Ranavat. One of our favorite products from the brand is its Brightening Saffron Serum, an all-in-one serum that works for both your morning and nighttime skin routine. It's lightweight yet nourishing, and helps with brightness while addressing other skin concerns like hyperpigmentation.
LYS Beauty
At just over a year old, LYS Beauty is already making waves as the first Black-owned clean cosmetics brand sold at Sephora. Founded by a makeup artist turned beauty business maven, Tisha Thompson is proving that you don't need to sacrifice anything to reap the benefits of clean beauty products. She's also filling a much-needed space in the clean beauty market for women of color in particular, who have yet to be able to access clean products that have been created for a diverse range of skin tones and undertones and that target concerns more common for women of color.
"Being a Black woman has shaped my life's experiences, and therefore my perspective, so I really lean into that to inform how I want people to feel when interacting with this brand across different touch points," shares Thompson. "It's important that they feel seen, heard, celebrated, represented and respected here."
Thompson describes how the goal of LYS Beauty is to help people uncover their inner confidence — the confidence that's often needed to exist and thrive as a woman. "I cling to my personal experiences as well as those of my family, friends, team and customers to determine the best steps for this brand — from product innovation to selecting the brands we collaborate with."
Eadem
Eadem is a skin care brand by and for women of color — and it's why co-founders Alice Lin Glover and Marie Kouadio Amouzame invented Smart Melanin Beauty. A technology and process that considers the skin care needs of people of color first and foremost, Smart Melanin Beauty is "made by women of color chemists, vetted by women of color dermatologists and tested on skin of different shades." This means that the brand's products have no lightening or bleaching agents, are all pregnancy- and nursing-safe and surpass FDA requirements. One product that fans swear by is the brand's Milk Marvel Dark Spot Serum, which is formulated specifically to fade dark spots and prevent new ones from forming on skin of color.
"As women, we're so frequently spoken to through language that says we're not enough — skinny enough, pretty enough, young enough, desirable enough. As women of color, we feel that tenfold because we typically don't fit (and can never meet) Western standards of beauty," says Glover.
"We founded our company on the belief that women of color not only are enough, but that they're beautiful as they exist now. Everything we do — from campaign castings to product formulations that don't bleach skin tones to commissioning essays by women of color — reinforces and perpetuates that idea so celebrating women of color as they exist becomes the new normal."
Tarte
The beloved beauty brand has been around for over two decades, and shows no signs of slowing down. "Tarte grew out of my love for makeup," shares founder and CEO Maureen Kelly, "and my identity as a woman has informed so much of my journey."
Whether it's the brand's award-winning Shape Tape concealer or its 4-in-1 mascara (one of our holy grail products), Tarte has a super-wide range of products — there's truly something for everyone. Just recently, Tarte brought back its very first product — a dewy, water-infused cheek stain that fits perfectly with the natural, glowy makeup that's so popular right now. And they did so just because thousands of Tartelettes (what the brand calls its fans) asked for it.
Kelly explains that as a woman who has personally experienced and witnessed the power and benefits of financial independence, she wanted to make sure other women could experience those same benefits. Through programs like Tarte's $150,000 Small Business Awards Program, Big Ego Girl's Scholarship Fund and Heart to Tarte grants, Kelly is doing just that. "I am proud to be a woman," she shares, "and I am proud to have founded and continue to lead a successful business that celebrates and empowers all aspects of women every day."
Juvia's Place
If you're looking for the most affordable, high-quality eye shadows we've ever come across, look no further. Founded by Chichi Eburu, Juvia's Place was born from a need for makeup that complemented her deep skin tone. The result is beautifully pigmented, rich and often brightly colored makeup that is flattering to all skin tones, but deeper skin tones in particular.
Juvia's Place has long held a coveted spot in our makeup bag because of how great the brand's eye shadow palettes are — specifically, the Nubian Eyeshadow Palette — a warm-toned dream where every single shade is a winner.
Freck Beauty
If you love the simultaneously bold yet minimal makeup favored by Gen Z, we're here to introduce you to your new favorite makeup brand. Born from the idea of creating a cosmetic product that would replicate natural-looking freckles, today Freck Beauty offers a whole suite of clean beauty products that are also a ton of fun. Our must-try product is the Best of Freck Duo, which includes the Freck OG faux freckle pen and the brand's lip and cheek tint, which pair perfectly together for a natural, sun-kissed look.
"As a cis-identifying woman, who admittedly appears younger, it's tough to be taken seriously as a founder, business owner and champion of all voices," says Freck founder and CEO Remi Brixton. "I am grateful for the other trailblazing badass women, and other marginalized community leaders, for making space for me and others to build businesses. It's that foundation that has led to building Freck Beauty to have a strong voice and an undeniable attitude that champions all — that I'm so proud of."
Beautyblender
If you know anything about beauty, you know about the original Beautyblender makeup sponge — a tool that changed makeup application for makeup amateurs and professionals worldwide. And its success, particularly among professional MUAs, should be no surprise given founder Rea Ann Silva's background as a Hollywood makeup artist.
Since its launch, the brand has expanded beyond its namesake product to a whole line of complexion products — one of our favorites being the Bounce Always On Radiant Skin Tint. A lightweight skin tint that has a gorgeous radiant, buildable finish, it's the perfect type of product to apply with a damp makeup sponge, which makes perfect sense for the brand.
Tower 28
After years of dealing with clinical-feeling beauty products due to sensitive skin and eczema, founder Amy Liu left her job as a beauty executive to create the brand she wasn't finding anywhere else. "As a mom of three, I know that it truly takes a village, and building a business is no different," shares Liu. "Being a first-time founder is a lot like being a first-time mom. You have so much fear and doubt and you care so much but don't really know if you're doing a great job. Gratefully, I have found community and support in my friendships with other founders."
Nontoxic, nonirritating, vegan and cruelty-free, Tower 28 is quickly becoming our go-to brand for beauty everyday esfsentials. From its ShineOn Lip Jelly to the BeachPlease Luminous Tinted Balm, Tower 28 absolutely nails chic products that are also just good for you and your skin. One of our holy grail products is the brand's SOS Daily Rescue Facial Spray, which is a dream for soothing red or irritated skin.
"I'm so lucky to be surrounded by a team of the smartest, most creative women I know," shares Liu. "All of whom are integral to Tower 28's success."
Tatcha
A longtime favorite of ours, Tatcha is one of the most popular skin care brands for good reason. The products are clean yet effective, gentle on all skin types and such a joy to use. Founder Vicky Tsai started Tatcha after traveling to Japan in search of a more holistic approach to beauty that could help ease her acute dermatitis. The rituals and ingredients she learned about are the inspiration for many of the ingredients and formulas used in Tatcha products today.
"As a woman, a mother and a businesswoman, it's always been important to me that Tatcha uplifts all women," says Tsai. "I feel honored every day that I get to be part of a company that cares for women, develops women leaders and funds girls' education around the world through our Beautiful Faces, Beautiful Futures education fund." She also notes that as a mother, the opportunity to impact the lives of girls is immeasurable, and that through this work, we can "show the world that beauty is much more than just skin deep."
Supergoop
Supergoop founder ​​Holly Thaggard started her brand nearly 15 years ago, at a time where daily sunscreen use wasn't a common thing. Her goal with Supergoop was twofold: changing the way people thought about sunscreen (not just a thick, gloopy lotion you wear exclusively at the beach) and helping people reduce their risk of skin cancer by wearing sunscreen regularly.
Supergoop's revolutionary products were some of the first that opened our eyes to the fact that sunscreen can be lightweight, makeup-friendly and not a pain to apply. A couple winners include its Unseen Sunscreen SPF 40 and Superscreen Daily Moisturizer SPF 40, though we have yet to try anything from the brand we don't love. Plus, all Supergoop's products are reef-friendly, cruelty-free and made with clean ingredients.
Playa
Playa launched in 2017 with just five products — what the brand refers to as the everyday essential routine for any hair type. Fast forward a couple years, and it's grown to include a full suite of hair care offerings in addition to body care products. But the effortless, minimalist and practical spirit of the brand hasn't changed at all.
"Before launching Playa in 2017, I worked as a fashion stylist in NYC," shares founder Shelby Wild. "Needless to say that was a notoriously fast-paced industry, and yet one where (especially as a woman) your image was front and center." She recalls that as her career became increasingly more demanding, she found herself with zero time to go through a full-blown beauty routine in the morning.
"This ultimately became the inspiration for Playa — it's a line of effortless, daily use products that make your hair routine a breeze." And we agree — especially for those who don't want to deal with an involved hair care routine, Playa's products really do work to make your natural hair look its best. The brand's Every Day Shampoo is one we keep returning to; it smells lovely (while still subtle) and is incredibly effective yet gentle — perfect for dry or damaged hair.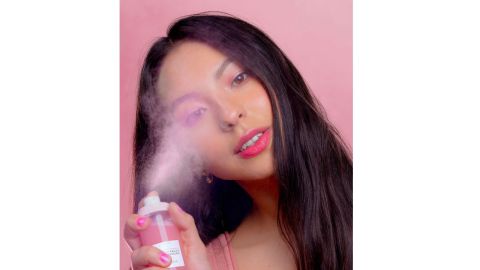 Glow Recipe
The adorable Korean beauty-inspired skin care brand was founded by Christine Chang and Sarah Lee, who met while working together at L'Oréal. They realized that their shared bicultural, bilingual background and passion and knowledge of Korean beauty could only mean one thing: that they should be the ones introducing it to an American audience. While Glow Recipe first started as an e-retailer for various Korean brands, the brand as we know it today launched in 2017.
Glow Recipe's products utilize proven active ingredients from different superfruits to create skin care products that truly do keep your skin glowing. Whether it's the cult-fave sleeping mask that launched the brand into the mainstream or its nourishing hyaluronic serum with plum-derived ingredients, you can't go wrong with any of the skin care goodies, which work just as well as how darned cute the packaging is.
Dae
Dae's dreamy, totally gorgeous products have been impossible to miss on social media. The clean hair care brand was founded by Amber Fillerup-Clark, who describes Dae as "a very warm and kind brand that is inclusive and approachable to everyone" — traits she says she hopes to embody herself.
The brand is Arizona-based, which is also where Fillerup-Clark calls home. In fact, many of the products in Dae's products are inspired by Arizona, from its orange blossom scents to its use of nourishing ingredients derived from desert botanicals like prickly pear and cactus. Our recommended product to try out is the Cactus Fruit 3-in-1 Styling Cream, which is wonderful for applying before heat styling or using as a curl cream. Plus, it smells delicious — always a huge plus when it comes to hair care!
Kosas
If the thought of makeup that actually improves your skin sounds appealing, we're happy to introduce you to Kosas Cosmetics. Founded by Sheena Yaitanes in 2015, the brand originally launched in 2015 with just four lipsticks.
Today, the brand boasts a whole range of products, all of which come in super-fun, modern packaging. The collection also includes one of our fave concealers: the Revealer Concealer. It's a super-creamy concealer that has that perfect amount of medium coverage. The formulation boasts ingredients like caffeine, hyaluronic acid and arnica, all of which work to smooth, brighten and plump your under-eye area while concealing imperfections.
Drunk Elephant
Drunk Elephant is one of the most popular skin care brands on the market — loved by many for its chic packaging, clean formulations and super-effective products. Founder and chief creative officer Tiffany Masterson started Drunk Elephant after discovering six specific ingredients in traditional skin care that were contributing to a host of skin issues. Once she eliminated them and her skin returned to its "healthy and balanced state," Masterson realized that the products she needed didn't exist in the market, so she decided to create her own skin care company.
"I've found that many of the ways that I approach the business are informed by the way I take care of my kids and my role as a mom," shares Masterson. "My goal is always to arm the consumer with the knowledge they need to best take care of their skin. It's a different way of approaching the business, and one that puts more of an emphasis on education. We're not trying to just sell you a product; I want to offer a unique philosophy and troubleshooting solutions that will help consumers have their best skin for years to come."
Masterson also recalls starting Drunk Elephant at the same time she was raising her kids, sharing that the quality time she spent with them — even more than the quantity — made all the difference. "I feel the same way about our consumer," she says. "I love their suggestions and feedback; it's how I grow as a brand and as a founder."