Ad Blocker Detected
Our website is made possible by displaying online advertisements to our visitors. Please consider supporting us by disabling your ad blocker.
The 2021-22 NBA season felt more normal than the previous two seasons, but the sport was without some of its biggest stars.
LA Clippers forward Kawhi Leonard, New Orleans Pelicans forward Zion Williamson, Denver Nuggets guard Jamal Murray and Brooklyn Nets forward Ben Simmons all missed last season because of a variety of injuries, while new Clippers guard John Wall was healthy but sat out because he didn't fit into the plans of the rebuilding Houston Rockets.
All five players should provide an immediate impact on their teams this upcoming season. In the Clippers' case, the return of Leonard and the free agent addition of Wall should immediately make LA a contender again in the Western Conference following a 42-40 campaign.
What should fans expect from their favorite returning players this fall heading into training camp? How will teams work to reintroduce players who haven't played in competitive games in more than a year — or two years in the case of Orlando Magic forward Jonathan Isaac?
Our NBA experts recap when we last saw each player, what has changed since they have been away from the court and the roles they could play in the 2022-23 NBA season.
Steve Ballmer couldn't contain his enthusiasm when asked what it will be like having Leonard back this season.
"Come on, man!" the Clippers owner said in late June. "[Leonard is] not only your best player but one of the preeminent, handful of top players in the world? I am really excited about that. Kawhi's in the gym, he's working and we got our fingers crossed everything keeps going on schedule."
The Clippers surely will take every precaution surrounding their franchise player. Leonard hasn't played since tearing his right ACL during the fourth quarter of Game 4 of the Western Conference semifinals against the Utah Jazz on June 14, 2021.
LA Clippers forward Kawhi Leonard has not played since June 14, 2021, when he tore his right ACL. Jevone Moore/Icon Sportswire
Leonard has been in San Diego rehabbing with his "maniacal" work ethic, as Clippers president of basketball operations Lawrence Frank described it.
"I'm glad [to] afford the light bill because he's putting in the hours," Frank said.
Entering July, Leonard had not yet participated in 5-on-5 basketball activities, but Frank said he is on schedule.
The Clippers can contend again in the West with a healthy Leonard and Paul George, who also missed a chunk of last season because of an elbow injury before returning in late March.
The Clippers added Wall after the point guard worked a buyout with the Rockets. So while the Clippers hope to bring back the majority of their team to make a title run, Wall will be a new piece with whom Leonard and George will have to form chemistry.
The Clippers might need time before hitting all cylinders again, but they'll have time to do that before next postseason with what they hope will be a healthy and stronger Leonard.
— Ohm Youngmisuk
Wiseman hasn't played a regular-season game since he tore his right meniscus on April 11, 2021. The Golden State Warriors center had surgery later that month, but the No. 2 overall pick in the 2020 draft faced setback after setback in his attempts to return to the court.
Wiseman experienced swelling in his right knee last December, requiring him to undergo a cleanup procedure. By springtime, Wiseman appeared on track to return before the end of the regular season and in time to help the Warriors' final push as they headed into the playoffs. He even played in three G League games, which were expected to be the final step in his rehab. But the knee swelling recurred, and he was eventually shut down for the rest of the season.
Wiseman was supposed to be the answer to questions surrounding the Warriors' size — or lack thereof. General manager Bob Myers said he didn't feel the need to sign a big man at the trade deadline because he believed that a healthy trio of Wiseman, Kevon Looney and Draymond Green would be enough. It turned out that just having two of those players was enough for another NBA championship.
Last season was a breakout year for Looney. He played in all 104 regular-season and playoff games for Golden State and carved out a main role. He became the rebounding big the Warriors desperately needed, averaging 12.4 rebounds per 36 minutes in the regular season. Looney even had one playoff game with 22 rebounds and two with 18. The Warriors re-signed him in free agency, meaning they won't need Wiseman to step up right away.
Wiseman averaged 10.5 points and 5.5 rebounds in four games at Las Vegas summer league, giving the Warriors — and the NBA at large — a glimpse of where he stands. Still, after playing in only 39 career NBA games, Wiseman's role remains uncertain as he heads into the 2022-23 season, his third as a pro.
— Kendra Andrews
Murray said he clearly wasn't close enough to returning in the first round against the Warriors, as the Nuggets' postseason ended in five games to the eventual champs.
But the Nuggets point guard is expected to be ready for training camp in the fall and make his return after missing all of last season rehabbing a torn left ACL. Murray hasn't played since suffering the injury against Golden State on April 12, 2021.
2 Related
Murray was in good spirits when he told reporters at the end of last season how difficult it was having good and bad days, and waiting until his body feels 100 percent.
"I just need to feel right," Murray said. "Being healthy is the main key. Once I feel like I can do everything that the game demands, we will have no problem."
The Nuggets have had some changes since Murray made those comments. Team president Tim Connelly left for the Minnesota Timberwolves, and general manager Calvin Booth dealt Will Barton and Monte Morris for Kentavious Caldwell-Pope and Ish Smith prior to the start of free agency.
Caldwell-Pope, who signed a two-year, $30 million extension with the Nuggets, gives Murray a 3-and-D guard to play alongside, someone who can take more defensive responsibilities while Murray can focus on ramping back up to game speed..
"I feel like I am going to come back with a slightly new style," Murray told the media in April. "Those first few games are going to be kind of rough, I already predict that. It will be a year and a half since I played. … I will take the good days with the bad days. But I have no doubt I can return to form."
Two-time reigning MVP Nikola Jokic will be the happiest to welcome back Murray and Michael Porter Jr., who missed all but nine games last season because of spinal surgery. Both are expected to be ready for camp.
"I'm definitely more bouncy than before," Murray said. "Definitely stronger. I've been lifting weights for a year. When it all comes together, it will show. I'm excited. I'm really excited."
— Youngmisuk
Williamson last played against Golden State on May 4, 2021, before missing the final six games of the 2020-21 season because of a broken finger. During offseason workouts last summer, Williamson suffered a broken bone in his right foot that was originally set to delay his season debut.
That debut never happened, as Williamson suffered multiple setbacks while rehabbing and missed the entire 2021-22 season.
Williamson was warming up pregame and throwing down big dunks toward the end of last season, and even made it back to some 5-on-5 work with coaches, but was never cleared to play.
Williamson last played under coach Stan Van Gundy. Last summer, the Pelicans opted to move on from Van Gundy after just one season and hired Willie Green. The Pelicans started 3-16 under Green but ultimately rallied to play over .500 the rest of the way and make the play-in tournament.
play
0:31
Zion Williamson shows no mercy as he goes one-on-one at his youth basketball camp.
The Pelicans dealt for CJ McCollum at the trade deadline, which helped with the late-season push. Williamson watched from the sideline as his teammates won back-to-back play-in games to make the playoffs as the No. 8 seed against the Phoenix Suns.
A trio of rookies helped the Pelicans take the Suns to six games, including Jose Alvarado, Herbert Jones and Trey Murphy III. The Pelicans ended the season on a high note, though questions lingered about Williamson's future in New Orleans.
Williamson put those questions to rest when he agreed on a five-year rookie max extension worth $193 million this offseason, so he projects to be a big part of their future when he returns healthy this season and moving forward.
— Andrew Lopez
Simmons last played on June 20, 2021, in Game 7 of the Eastern Conference semifinals against the Atlanta Hawks. After requesting a trade out of Philadelphia last summer, citing mental health concerns, Simmons was finally dealt to the Brooklyn Nets as part of a package that sent James Harden to the Sixers just before February's trade deadline.
Simmons never played for the Nets last season because of a back injury and ongoing mental health concerns. But after offseason back surgery, the Nets are hopeful he will be ready for training camp.
Though Brooklyn Nets point guard Ben Simmons is on track to return in the 2022-23 season, Kevin Durant and Kyrie Irving might have played their last games with the Nets. Matt Slocum/AP Photo
Simmons discussed in his introductory Nets news conference how much he was looking forward to playing with Kevin Durant and Kyrie Irving, but both players' statuses are now in limbo. Durant requested a trade out of Brooklyn in early July, and Irving is on the last year of his contract. Simmons' status in Brooklyn remains in question as the Nets decide whether they want to build with him or move him elsewhere as part of a complete overhaul for the organization.
Anything is possible right now in Brooklyn. More than anything, Simmons must show the league he can still play at a high level. Simmons posted a picture of himself on Instagram earlier this summer with the caption "Feeling incredible," then deactivated his account a couple days later. No matter what transpires the rest of the summer, Simmons still has three years and $100 million left on his current deal. Simmons' situation remains one of the most intriguing questions in the entire league.
— Nick Friedell
Wall sat out last season simply because he was on the wrong team at the wrong time. The rebuilding Rockets didn't have room in their rotation for the former five-time All-Star point guard, preferring to give those minutes and touches to Kevin Porter Jr. and Jalen Green. So it made sense for Houston to pay Wall his $44.3 million salary to sit out.
He will attempt to revive his career on the Clippers after he agreed to a two-year, $13.2 million deal following his buyout from the Rockets. Wall was owed $47.4 million after picking up the player option for the final season of his contract, but sources said he agreed to give back $6.5 million to exit Houston.
Wall's bill of health is as clean as possible for a soon-to-be 32-year-old point guard with extensive injury history that includes a torn Achilles tendon in 2019. If anything, a healthy year of training could benefit Wall as he enters the next chapter of his career. He stayed in shape last season, training some with the Rockets and on his own in Miami the rest of the time, and is eager to return to NBA action.
Nobody questions whether Wall, who averaged 20.6 points and 6.9 assists in 40 games for the Rockets during the 2020-21 season, can still help a team. His playmaking should be particularly useful for an LA squad alongside a healthy Leonard and George.
— Tim MacMahon
The last meaningful game Nunn played was in the 2021 playoffs, when he averaged 10.3 points on 39.5% shooting for the Miami Heat in a first-round loss to the Milwaukee Bucks. Nunn was considered a steal for the Lakers last summer when they signed the then-25-year-old scoring guard to the taxpayer's midlevel contract for $5 million. But he never appeared in uniform for L.A. after the preseason. He was first listed out because of a right ankle sprain.
Stay up to date on the latest NBA free agency and trade news all summer long:
Not long after, it was revealed Nunn had a bone bruise in his right knee. Several attempts to ramp up his rehabilitation process in January and February led to setbacks as Nunn failed to return to the court and became the poster child for the Lakers' front office's unfortunate decision-making in a season that went awry.
Nunn is one of the last vestiges of the Lakers' 2021 offseason, as L.A.'s front office has not retained a single player brought in before training camp other than Nunn, Austin Reaves and Russell Westbrook. Nunn exercised his player option for 2022-23, and if he's healthy and can replicate the type of production he showcased in Miami, he'll still be considered a bargain at $5.25 million.
If L.A. is able to trade Westbrook or seek another deal that doesn't include Nunn, possibly with Indiana for Buddy Hield or Houston for Eric Gordon, Nunn could get the chance to be the change-of-pace combo guard L.A. thought it acquired in the first place. But we have to see how the Lakers' roster shakes out the rest of this summer to accurately project what type of role Nunn could reasonably fill.
— Dave McMenamin
Saric ruptured his right ACL in Game 1 of the 2021 NBA Finals on July 6, 2021, and hasn't played since. Nearly 10 months into his rehabilitation, he went back under the knife to repair the meniscus in his right knee while the Suns were beginning their second-round playoff series against the Dallas Mavericks.
Before his knee injury, Saric was a trusted backup big man for Phoenix Suns coach Monty Williams, having also played for him in Philadelphia when Williams was a 76ers assistant. In the COVID-19-shortened 2020-21 season, Saric averaged 8.7 points on 44.7% shooting (34.8% from 3) and 3.8 rebounds in 50 games for the Suns.
The Suns have cycled through a wave of big men since Saric was injured, with JaVale McGee, Frank Kaminsky, Jalen Smith, Bismack Biyombo and Ish Wainright all getting a look. With McGee signing with Dallas as a free agent, Phoenix traded for another center, Jock Landale, who averaged 4.9 points and 2.6 rebounds in 10.9 minutes per game for the San Antonio Spurs last season. Phoenix followed up its trip to the Finals with a disappointing playoff exit, punctuated by a disastrous Game 7 loss at home to Dallas.
There's a soft market for big men in today's NBA. While Saric's passing and shooting ability separate him some from the rest of the crowd, it remains to be seen if Phoenix will wait out his rehab process in hopes of getting him back in the mix with the departures of McGee, Kaminsky and Smith.
— McMenamin
Warren played the first four games of the 2020-21 season but hasn't appeared in a game since Dec. 29, 2020. Consecutive stress reactions in his left foot forced him to miss virtually all of the past two seasons and required surgery this past December. Warren is fully recovered and was cleared to return to practice and participate in full on-court activity in March. However, the Indiana Pacers were already out of playoff contention at that point, so Warren and the team decided he'd be shut down for the rest of the season. Barring a setback, he should be ready to play when next season starts.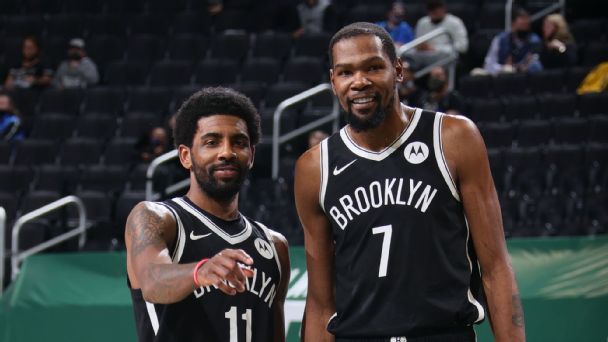 Want to forecast where your favorite NBA stars could wind up? Create your own deals with ESPN's Trade Machine.
In the NBA bubble in 2020, Warren's breakout performance emerged as one of the major storylines out of the Walt Disney World Resort. It appeared as if Warren had taken a leap with his skills, and Indiana had a strong core with him as a part of it. Warren never got a chance to replicate his performance. Meanwhile, the Pacers broke up the core Warren was supposed to be a member of, trading away both Domantas Sabonis and Caris LeVert.
Warren, who turns 29 in September, entered free agency as a curiosity after more than 500 days had passed since his performance in the bubble. He will now try to reset his value on a one-year deal with a Nets team that is in serious limbo given the uncertain futures of Durant and Irving. Depending on whether one or both of those players suits up for the Nets in 2022-23, Warren could either play a supporting role on a contender or a major role on a team that suddenly finds itself rebuilding.
— Jamal Collier
The last time we saw Isaac on a basketball court, it was a very unfortunate sight: him writhing on the ground in agony after suffering a torn ACL and meniscus in his left knee on Aug. 2, 2020, inside the NBA bubble at Walt Disney World Resort. As a result of the injury, Isaac has now missed each of the past two seasons — and suffered a hamstring injury that required surgery as he was rehabbing from the knee issues in March.
Those injury absences — coupled with him missing most of his rookie year because of an ankle sprain — have caused Isaac to play just 136 of a possible 391 games through his first five NBA seasons, and leave his future in question entering the 2022-23 campaign.
Orlando has been among the NBA's worst teams the past two seasons while Isaac has been out. The Magic have traded away veterans, such as Nikola Vucevic, Aaron Gordon and Evan Fournier, in favor of a full-on rebuild. As a result, the Magic come into next season as an intriguing team, featuring No. 1 pick Paolo Banchero, two top-10 picks from last year's draft in guard Jalen Suggs and forward Franz Wagner, and two more first-round picks from the 2020 draft in guards Cole Anthony and R.J. Hampton.
Where Isaac fits into that mix remains to be seen. Given the amount of time he has missed, presumably, Isaac will be expected to come off the bench behind Banchero and Wagner, with Wendell Carter Jr. starting at center and Suggs and Anthony filling two starting backcourt spots. If Isaac can get back to anything close to what he was before his time away, he is a very intriguing talent: a 6-foot-11 forward with elite defensive tools and the potential to have a solid jump shot.
Those kinds of players are rare commodities and would be an especially good fit next to Banchero in Orlando's long-term frontcourt. However, it's impossible to know what state his game, and his body, will be in after so much time away.
Then there's Isaac's contract to consider. Because of the time he has missed, the extension he had signed previously is now guaranteed for only $7.6 million for the 2023-24 season and fully non-guaranteed for the 2024-25 season. In many ways, this is a massive season for both Isaac and Orlando to see whether he will be a key piece in the Magic's future.
— Tim Bontemps