Ad Blocker Detected
Our website is made possible by displaying online advertisements to our visitors. Please consider supporting us by disabling your ad blocker.
The NBA offseason has been a busy one featuring blockbuster trades, max contract extensions and under-the-radar signings. There are also several marquee players who have still yet to be signed.
The Utah Jazz traded two-time defensive player of the year Rudy Gobert to the Minnesota Timberwolves for a bevy of picks and players in one of the most talked about moves of the offseason. But there were many other trades and signings that could impact the landscape of the league, including the Boston Celtics' trade with the Indiana Pacers for Malcolm Brogdon.
Ja Morant, Zion Williamson and Bradley Beal are just a few players who signed hefty max contract extensions to stay with their respective teams.
But there is also still quite a bit of uncertainty, as Kevin Durant and Kyrie Irving — who both requested a trade — still remain with the Brooklyn Nets and veterans such as Carmelo Anthony still have not signed contracts.
There are a lot of questions surrounding the landscape of the 2022-23 season, and our experts dive into the big ones and make their bold predictions during the offseason.
Kevin Durant and Kyrie Irving both requested trades from the Brooklyn Nets yet they still remain on the roster. The Nets want a haul for both players, which means they could remain unmoved at the start of the season. AP Photo/Adam Hunger, File)
Kevin Pelton: My current expectation is that both Durant and Irving will start the season on the Brooklyn Nets, which would mean Westbrook likely starts the season with the Los Angeles Lakers as they wait on a possible trade for Irving midseason. The Mitchell trade is the one I expect will get done this summer because of the Utah Jazz's desire to be in the lottery next season and the New York Knicks' eventual impatience in negotiations.
Nick Friedell: Durant will end up in Brooklyn. Unless KD is going to really force his way out behind the scenes, why would the Nets move him unless they were getting a comparable return? Irving will be at home. After Brooklyn GM Sean Marks made a point to say the Nets want players who want to be there, it's hard to believe they would reverse course. The Nets need the Lakers, or some other team, to come up with an offer that makes a deal worth their while — but why should those teams believe Irving would change his way this time around? Westbrook will remain with the Lakers. No contract is completely untradeable in the NBA, but this one is going to be tough. Mitchell will start with the Knicks. Utah wants to rebuild, and the Knicks want a star to build around.
2 Related
Ohm Youngmisuk: I hate to be boring, but I think there's a good chance all these guys will enter training camp on their respective teams. It doesn't mean they will finish the season that way, though. The Boston-Brooklyn talks over Durant, as reported by ESPN's Adrian Wojnarowski, are incredibly intriguing. But I think Brooklyn is going to stand firm with the blockbuster haul it wants in return. I can see Irving ending up with the Lakers, but I'm not sure if it happens before the season starts and before a potential Durant deal. And we know dealer Danny Ainge will be looking for a gold mine in exchange for Mitchell, so teams might want to wait to see if that price drops by the trade deadline.
Kendra Andrews: Honestly, I wouldn't be surprised if Durant stays in Brooklyn. And I could see Irving in Brooklyn, too, or with the Lakers. Mitchell will be in a Knicks jersey. Westbrook is the biggest question mark. Where Irving plays could impact that, but I wouldn't be surprised to see him start the season in L.A.
Jamal Collier: Durant and Irving return to Brooklyn. Mitchell goes to New York. Westbrook is not in L.A. It seems like the status quo in each of these situations can't continue, but I just don't see a path to get Durant and Irving out of Brooklyn that hasn't emerged already. I don't believe one will play with the Nets next season without the other, so it's either find trade partners for them both or find a way to run it back. The latter seems more likely at this point. The statement from Westbrook's longtime agent, Thad Foucher, was very telling, and it doesn't seem like there's a path forward for him in L.A. Lastly, there's just too much noise and eagerness on the Knicks' part to not make the move for Mitchell.
2. Which under-the-radar signing/trade will be the most impactful next season?
Youngmisuk: Christian Wood fills all the things Dallas was missing in the postseason — a big man who can spread the floor and score — if he's in the right frame of mind. He should be able to give Luka Doncic much needed help, and JaVale McGee will give them some much-needed rim protection.
Get access to exclusive original series, premium articles from our NBA insiders, the full 30 for 30 library and more. Sign up now to unlock everything ESPN+ has to offer.
Friedell: I really like Malcolm Brogdon's fit with the Celtics. He gives them another steadying presence on offense and should fit in nicely to the core they already have in place. If he can stay healthy, he is going to provide a big upgrade.
Andrews: Brogdon to the Celtics. It was a good move for an already contending team that makes it even better.
Collier: De'Anthony Melton to the Philadelphia 76ers. Melton fit nicely with the Memphis Grizzlies, playing next to Morant and filling in while Morant was injured. He's exactly the kind of player Philly needs after losing Seth Curry at the trade deadline. He's a good 3-point shooter, solid defender, quick and going to fit well with the rest of the team.
Pelton: The Golden State Warriors signing Donte DiVincenzo. With the departures of Gary Payton II and Otto Porter Jr., the Warriors needed to add proven depth to go with increased roles for their recent first-round picks. DiVincenzo qualifies. He was an excellent trade candidate coming off ankle surgery that sidelined him the first two months of 2021-22 and a down season from 3-point range. If DiVincenzo is healthier and in better rhythm, getting him for $4.5 million this season could be the steal of the summer and help Golden State's chances of repeating.
Carmelo Anthony has yet to re-sign with the Los Angeles Lakers or any other team ahead of the 2022-23 season. Trevor Ruszkowski-USA TODAY Sports
3. Fact or fiction: Carmelo Anthony has played his last NBA game.
Friedell: Fiction, but as a fellow proud Syracuse Orangeman, it pains me to see Anthony linger in the free agent wilderness like this again. He has proved a lot of people wrong over the past three years after plenty of people thought he was done. But at this stage, given what he has accomplished, would he even want to take a role on a team in which he's not playing much at all?
Collier: Fiction. I'm not sure if Anthony will find a home before training camp, but I don't think we've seen the last of him in the NBA. He has still been a very good 3-point shooter for the past three seasons and is well respected around the league. As injuries inevitably occur and rotations start to look shakier during training camp and preseason, I could see him finding a role somewhere.
Youngmisuk: Fiction. Even if he's not signed to a team at the start of camp, Anthony can still help a team with his veteran experience and scoring off the bench.
Andrews: Fiction. He still has some gas left in the tank, it's just a matter of finding the correct fit that will make the money work.
Pelton: Fiction. If Anthony still wants to play, I think he'll find a spot before training camp. He has shown the past two seasons he's willing to play a role off the bench, and done so effectively. Remarkably, last season's .579 true shooting percentage was the best of his career.
The Minnesota Timberwolves improved by adding big man Rudy Gobert to their roster in a blockbuster trade with the Utah Jazz. Is it championship or bust for the Wolves? Photo by David Berding/Getty Images
4. Is it championship or bust for the Minnesota Timberwolves in 2022-23 with Rudy Gobert, Anthony Edwards and Karl-Anthony Towns?
Friedell: Championship?? With this team? The Timberwolves have a chance to be fun and interesting, maybe even win some playoff games, but no team with Towns as its No. 1 piece is going to win a championship. Until Towns shows he can bring it on both ends of the floor every single night, the Timberwolves shouldn't be dreaming about a championship — even with Gobert on the floor.
Pelton: No, certainly not, given Anthony Edwards doesn't celebrate his 21st birthday until next month. Sure, Rudy Gobert's age (30) increases the urgency for immediate returns while he's still in his prime. But Minnesota should learn to play with Gobert and Towns together over the course of the season, as well as figure out the pieces it needs around them. I don't expect the Timberwolves' best chance of a deep playoff run for another couple of seasons.
Andrews: No. I think it's a "Timberwolves need to make it to the second or third round of the playoffs" or bust season. Considering this is the first season with this group — and there are so many good teams in the Western Conference — championship or bust might be much.
Collier: No, not yet at least. The Timberwolves have made the playoffs twice since the 2003-04 season and haven't been out of the first round since. Securing one of the top six spots in the West and winning a playoff series — or at the very least avoiding a disastrous first-round exit that looks similar to Utah's recent plateau — would be a win for a franchise and fan base that hasn't tasted much winning. That core trio is going to have to advance further in the playoffs at some point for this trade to ultimately be considered a success, but leaving next season optimistic about their path forward would be significant in Minnesota.
Youngmisuk: Though the haul they gave up to get Gobert was made like a team desperate to add a final piece to a championship puzzle, the Wolves are just starting their journey with Towns and Edwards. Their playoff run last season was only the beginning. Gobert is there to get them even further than last season. If the Wolves were to make it to the Western Conference finals next season, they would be ahead of schedule.
5. Which team do you think is the dark horse to watch next season?
Collier: I'm a bit higher on the Philadelphia 76ers than I expected to be, but I like the additions they made to replace some of the depth they lost in the James Harden trade. Ultimately, the team will go as far as Harden goes. I don't think we'll see him rise to the level he played in Houston, but I do think it's possible he starts looking like the player he was when he first arrived in Brooklyn. Put that version of Harden next to MVP-level Joel Embiid and Tyrese Maxey, still getting better as the No. 3 option, and I think this team can be a real contender in the East.
Pelton: The Toronto Raptors rarely get mentioned in these discussions, but with the addition of Otto Porter Jr. to add more versatility and needed shooting to their second unit, I think Toronto has a real chance to sneak into a top-four seed in the Eastern Conference and win a playoff series — if not more.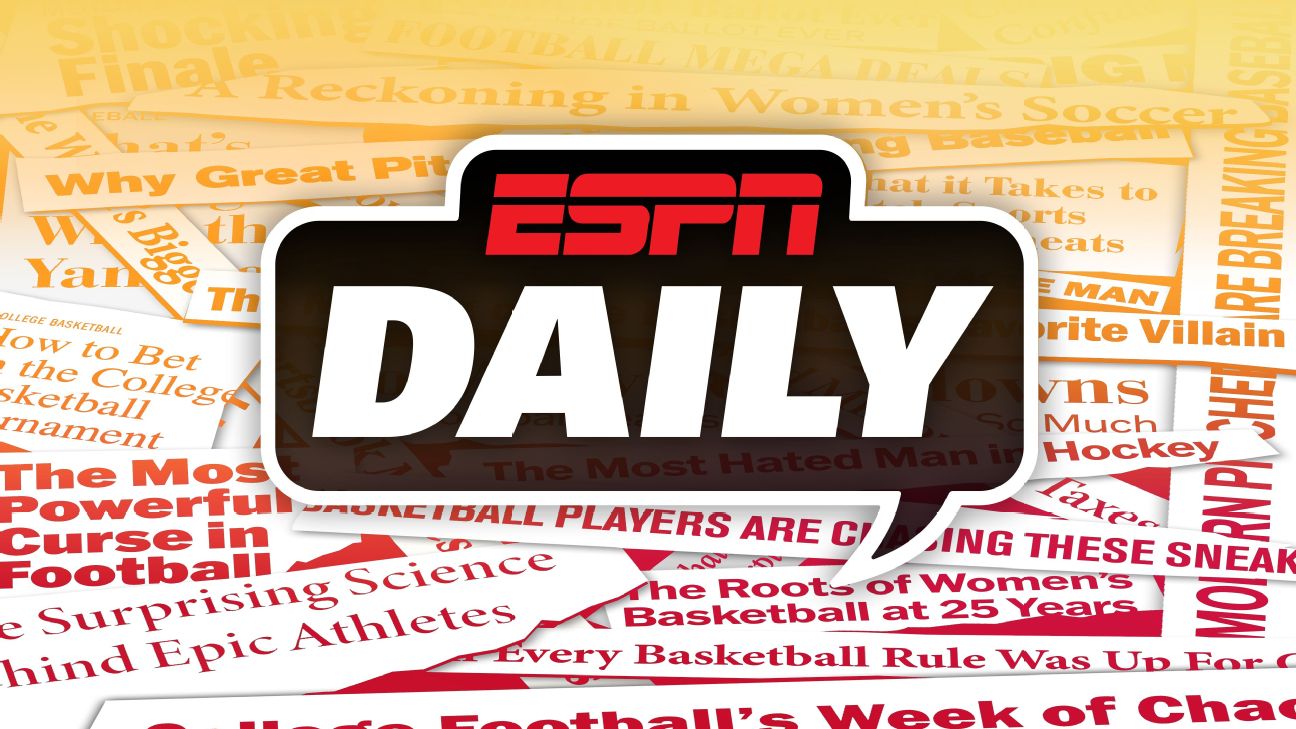 Monday through Friday, host Pablo Torre brings you an inside look at the most interesting stories at ESPN, as told by the top reporters and insiders on the planet. Listen
Friedell: The New Orleans Pelicans are going to be fun to watch if Zion Williamson can stay healthy, but I don't think they are ready to compete at the top of the West yet. The same goes for Toronto in the East — a lot of interesting pieces and a nice young core, but the Raptors are not ready to make a massive push in the conference. Count me in the group that doesn't think the Milwaukee Bucks are getting enough respect heading into next season. Giannis Antetokounmpo is the best player in the game, in my opinion, right now. And he got a whole summer to rest up — like Khris Middleton and Jrue Holiday finally did as well. This is a team that should be ready to roll.
Andrews: It depends on how you define a dark horse. If you're talking about teams that missed the playoffs last season, then it's the Los Angeles Clippers. But if their proven superstars disqualify them from this category, then it's the New Orleans Pelicans.
Youngmisuk: While Durant, Irving and Westbrook hold a grip over the NBA offseason headlines, the Denver Nuggets lurk. Jamal Murray will be back. If Michael Porter Jr. can stay healthy and Murray gets into a rhythm by the postseason, two-time reigning MVP Nikola Jokic will have his top two teammates back and the Nuggets will be very dangerous.