Ad Blocker Detected
Our website is made possible by displaying online advertisements to our visitors. Please consider supporting us by disabling your ad blocker.
WHEAT RIDGE, Colo. — UFC welterweight champion Kamaru Usman hasn't fought in nearly 10 months. Usually, those who follow this sport refer to that amount of time between fights as a "layoff" — but nothing about how Usman chose to spend those 10 months sounds like much of a break.
"Everyone says, 'You had the long layoff,' because it's just the time between when they've seen me inside the Octagon," Usman told ESPN. "That doesn't mean I wasn't doing anything. Even when I just had one hand and the other was casted [after breaking his right hand in a November win over Colby Covington], I was still using my left hand and going to the gym.
Kamaru Usman makes the sixth defense of his welterweight title against Leon Edwards, and Paulo Costa takes on Luke Rockhold in the co-main event.
Buy UFC 278 on ESPN+ PPV
UFC 278: Usman vs. Edwards 2
Saturday, Aug. 20, Vivint Arena, Salt Lake City, Utah
• Main card: 10 p.m. ET on ESPN+ PPV
• Prelims: 8 p.m. on ABC/ESPN/ESPN+
• Early prelims: 6 p.m. on ESPN/ESPN+
Subscribe to ESPN+ to get exclusive live UFC events, weigh-ins and more; Dana White's Contender Series; and more exclusive MMA content.
"Being in the position that I'm in, it never stops. You don't really get time off. I'm constantly thinking about this sport. That's mental pressure. I've said this before: It's my job to prepare for the rest of the world, while the rest of the world just has to prepare for one guy."
Usman (20-1) will seek his sixth 170-pound title defense at UFC 278 on Saturday (10 p.m. ET on ESPN+ pay-per-view), when he meets Leon Edwards (19-3) inside Vivint Arena in Salt Lake City. Going in, the 35-year-old Usman is closing in on several records, including most consecutive wins to start a UFC career. Usman is 15-0 inside the Octagon, just one win shy of former middleweight king Anderson Silva's mark of 16-0 before a loss.
Usman's level of perfection has some, including UFC president Dana White, starting to float the idea of him becoming the greatest fighter of all time.
Category
Number
Rank
Consecutive wins
15
2nd
Welterweight wins
15
T-5th
Takedowns
50
4th*
Takedown defense
100%**
1st
* Since 2015
** Has stopped 31 attempts
"I still consider Jon Jones [the greatest], but it's time to start talking about Kamaru Usman," White said. "He's one fight away from tying Anderson Silva. He already beat Jon Jones and [Georges St-Pierre, in longest win streaks to start a UFC career]. If he beats Leon Edwards, then he ties Anderson Silva and he's in that discussion."
For what it's worth, Usman says he doesn't care about the specific nomenclature of "greatest of all time." He simply wants to have earned the entire sport's respect by the time he hangs up his gloves.
"When I'm set and done, they're going to say, 'That guy was f—ing special,'" Usman said.
But for conversation's sake … what could Usman do that would make it hard to call anyone other than him the GOAT? His excellence has reached such a point that it's actually possible to map it out. Here's how he can get there:
Purchase UFC 278 on ESPN+ pay-per-view.
1. Close the Leon Edwards chapter
Saturday's fight is a rematch of a bout that took place in 2015. Usman defeated Edwards in what was only his second UFC appearance (and Edwards' fourth). The bout was not particularly compelling or memorable, as Usman out-landed Edwards in total strikes 126 to 36 and took him down six times. But everything that has happened since that bout legitimizes Edwards as a serious threat.
Make your UFC 278 picks and compete for a chance to win $5,000! Make Your Picks
Edwards is unbeaten in 10 in a row. And although the Englishman will be an underdog on Saturday, there is certainly a path to victory for him. Since losing to Usman in 2015, Edwards has devoted a ton of focus to his wrestling and has improved his takedown defense in the UFC to 70 percent. He's also a veteran of five rounds, having gone that distance three times in his last five contests.
"Leon is very dangerous," Usman said. "He's very dangerous. He might not have had those highlight moments yet, but he's very, very dangerous. Even myself, I've had some highlight moments, but the majority of them came after being champion. So, I don't discredit him. I fully respect him."
Should Usman get past Edwards, three of his six title defenses would be in rematches — meaning, he's essentially lapping the division. To go down as the greatest of all time, that is one of the requirements: Clean out a division, in such a way that leaves no doubt as to your superiority. After Edwards is out of the way, the division would be nearly cleaned out — outside of one name.
2. Khamzat Chimaev
Chimaev is the only name left in the top four of the UFC's division rankings that Usman has not beaten. And if everything falls right, this would be the biggest title defense of Usman's career.
Chimaev would be the fastest-rising title challenger in UFC history. Yes, there have been others who have fought for a championship earlier in their UFC runs, but those were special circumstances. For instance, Brock Lesnar fought for a title in just his third UFC appearance (and fourth MMA fight overall), but obviously he was already a superstar at that point from his WWE days.
2 Related
The Wolf was essentially unknown when he debuted with the UFC in 2020. Chimaev (11-0) is now 5-0 in the UFC with four finishes. He faces Nate Diaz in the main event of UFC 279 next month, and if Chimaev wins, it would set up a potential megafight: Usman, No. 1 in ESPN's pound-for-pound rankings, taking on the UFC's newest star.
"Now there's another guy that people are excited about," Usman said. "People are like, 'That's the guy, that's the guy that's going to get you.' That's another moment that I have to be able to be graceful about and cherish, knowing that I'm going into a chaotic situation again. … I would be lying if I said I won't be getting up much more for that one, because everywhere you go, people are going to be talking about it."
3. Light heavyweight
Over the last year, Usman has floated the idea of chasing a second UFC championship up two weight classes. This sport has seen multidivisional champions before, of course, but never one who skipped an entire weight class on the way up. Usman is willing to go straight to light heavyweight because, at middleweight, his good friend and fellow Nigerian Israel Adesanya is the current belt holder.
This isn't the first time Usman has suggested something that could be seen as borderline absurd. Last year, he campaigned for a boxing match against Canelo Alvarez. Pound-for-pound king of boxing vs. pound-for-pound king of MMA. The idea didn't really catch on, frankly, but this one could be different. If Usman is serious about moving to 205 pounds, there's a world in which that happens. And he says he is very serious about it.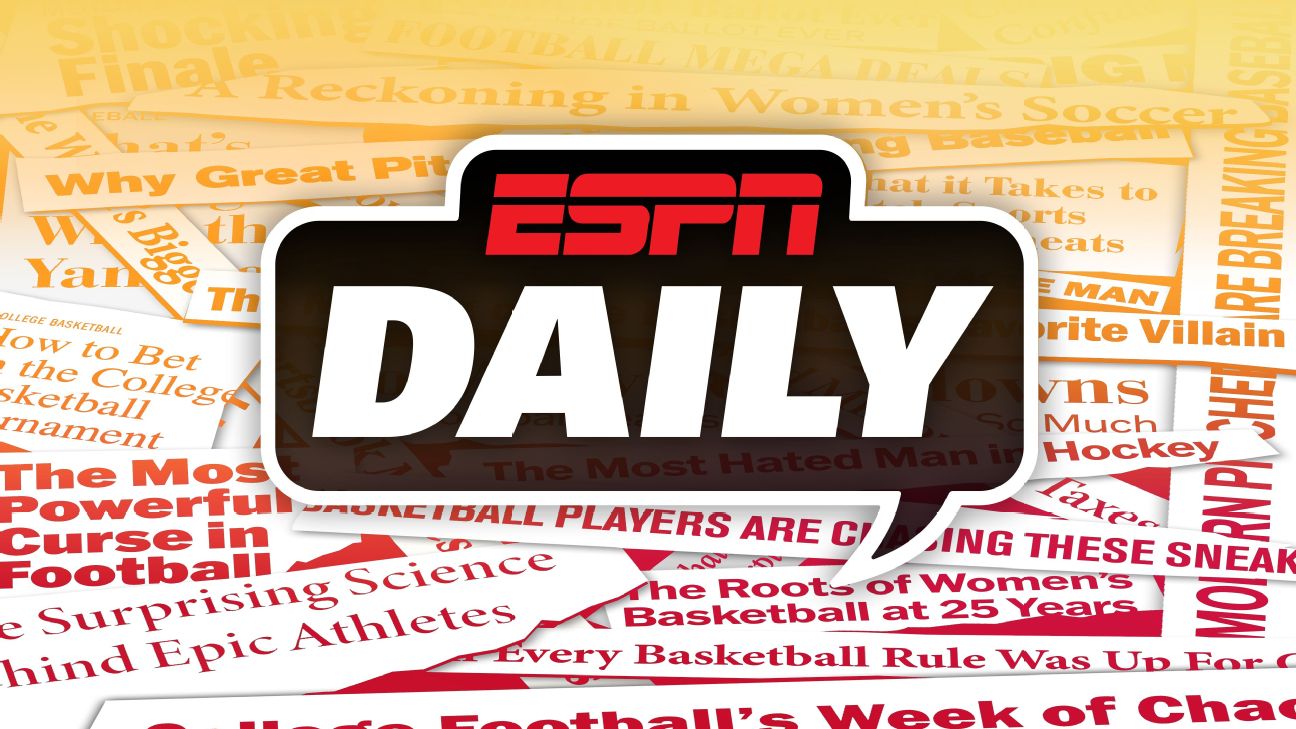 Monday through Friday, host Pablo Torre brings you an inside look at the most interesting stories at ESPN, as told by the top reporters and insiders on the planet. Listen
"I want [my fighters'] goals to be the biggest goals you can set," said Trevor Wittman, Usman's head coach. "Going out there and setting the goals as large as you can make them, where they're unthinkable — there's no way, you're changing history. … If he says, 'Hey, I'm thinking about doing this,' then I say, 'Go, let's do it.'"
Usman has already said he wouldn't bulk up for a light heavyweight fight, even though the weight class is 35 pounds higher than the one he's currently in. He made some headlines last month when he faced off with former light heavyweight champion Jan Blachowicz backstage at a UFC event in Las Vegas.
That felt like mostly just a photo op to pique people's curiosity. If Usman were to defend his title against Edwards and then Chimaev in a potential blockbuster main event, however, any request by him to move up two weight classes to do something no one has ever done would likely receive honest consideration from the UFC.
Maybe that's why Usman doesn't talk too much about being the GOAT. If he tackles as big of a goal as going for the light heavyweight title, he won't have to talk about being the GOAT. We'll talk about it for him.
"I meant it, I will skip [middleweight]," Usman said. "I will go up to 205 [pounds] and I will grab that belt. … I want to ask you a question: I skip 185, go up to 205 and I grab that belt, what do you say about my career?"