Ad Blocker Detected
Our website is made possible by displaying online advertisements to our visitors. Please consider supporting us by disabling your ad blocker.
In March, we were introduced to a plethora of products, from meditation apps to magic mouth wash. Some were forgettable, while others left a lasting impression. Because we're committed to spotlighting the best products out there, we've decided to curate roundups of our favorite products we try each month.
Keep reading to check out the products we tested and couldn't get enough of in March, or look back at our February favorites.
Starting to use the Headspace meditation app this month has been revolutionary for my mental health. I was skeptical at first — could a few minutes of silence and reflection a day really change things? — but yeah, it has. I'm a loyal listener to their daily suggestions for me, which can be anything from a breathing exercise to learning about how to manage anxiety better, and their nightly meditation, which usually involves something like how to de-stress or get to sleep quicker. Now in my most stressful moments I feel like I can distance myself, zoom out a bit and think things like, "Wait, does this really warrant this kind of reaction?" And usually? Nope! I couldn't recommend it enough for people going through any sorts of stressors, or hoping to manage their anxiety just a little bit too.
— Rachel Lubitz, senior lifestyle editor
I'm a fan of all things organization, but I don't think I've ever loved an organizer's aesthetic as much as I love these Storage Gems from Open Space. These aren't your average acrylic organizers (trust me, I have many of those). The stackable containers can hold bathroom stuff, jewelry, really anything — I use mine on my desk. Best of all, they come in eye-catching colors, like blue and dark green, amber and light pink, or a combination of all four.
— Chelsea Stone, senior editor
We have very limited shelving and storage space in our apartment, which sadly for me, means there's no room for more than three or four picture frames (if you know me, you know I take A LOT of photos). That's why I've been loving this digital frame from Aura, because it can hold up to 10,000 photos and display them throughout the day — all in one picture frame and no room required! All you need to do is clear out one spot for your frame and download the Aura app (it's completely free) and continually upload your favorite photos you want on display. This is officially one of my new favorite household items and it'd make the most perfect gift for any of your loved ones, just saying.
— Stephanie Griffin, senior digital content strategist
$105 $95 at W&P

I, unfortunately, had Covid-19 this month (I'm fine now!), and for about a week, I was pretty much confined to my bed eating nothing but soup. Luckily, I had these insulated containers from W&P Porter on hand. I wasn't exactly slurping broth and tea down, but this tumbler, bottle and cup kept my liquids hot for when I was ready to sip, which was an unexpectedly welcome comfort.
— Chelsea Stone, senior editor
When you review computers for a living, it takes a lot for one to stand out — but the Mac Studio is special. This is just about the fastest desktop I've ever used, and I had a blast running it through our usual benchmark tests just to see it run circles around most competitors. What's even more impressive is that the Studio fits all of this power into a tiny 8-inch box that sits discreetly under my monitor, and packs a ton of useful ports for my many accessories. The sheer speed of this thing might be overkill for most people, but if you need as much muscle as possible for serious creative work, the Studio gives you a whole lot for the money.
— Mike Andronico, senior tech writer
I've been using this cream from Dr. Dennis Gross every morning, and I've really been loving everything about it. It has a thick texture without being too heavy, and it's perfect for the transitional weather we've been having. It absorbs quickly and seems to work under SPF, makeup and primer without any pilling. My skin can sometimes become overly sensitized if I use too many retinol and exfoliating products, and this moisturizer has proven to be gentle enough for my skin, even after exfoliating treatments. It is super hydrating, and I've noticed a slight smoothing in my fine lines after weeks of use. I would absolutely buy this again and make it part of my regular morning routine.
— Hayley Saltzman, head of social
I went a terrifyingly long period of time with just one knife in my kitchen, and it was from the Dollar Store. Not an exaggeration, just a fact. Once my boyfriend learned about this and recovered from his cardiac arrest, he gifted me this knife from Material, and my life was forever changed. Slicing through everything from sausages to onions with ease, I don't know how I made it nearly 30 years without it. I also love how chic the cream handle is.
— Rachel Lubitz, senior lifestyle editor
$32 at Parade and $38 at Parade

Parade has been a favorite of the Underscored team's for a while, so it's no surprise that the brand's newer loungewear is just as comfy and cute as its intimates. I tried out Parade's Lush Rib collection (specifically, I have the Long Sleeve shirt and All-Day Leggings, as well as the High-Rise Brief and Triangle Bralette in the Midnight colorway of the material), and it's so luxuriously soft, I pretty much never want to take it off. Also, there's something about wearing a matching set that always makes me feel more put-together.
— Chelsea Stone, senior editor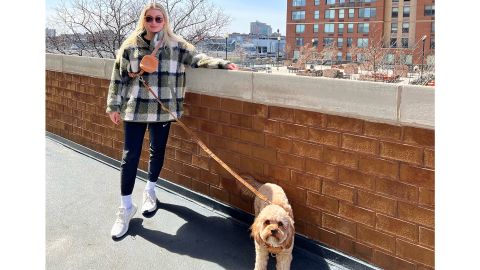 Attempting to walk my dog with one hand while sipping on a coffee in the other is nearly impossible, so having a hands-free leash to do both freely has been an absolute game-changer for me. I took mine in the color Camel (I love a monochromatic look) and I also purchased the harness and little pouch (which can store my phone, wallet and keys!) to go with it. Every pet parent needs this!
— Stephanie Griffin, senior digital content strategist
Everyone knows that I have been a faithful LA Girl Pro Concealer user since I was in college. Even though I'm still a fan, my staple product has some mean competition. I am in awe of the LYS Triple Fix Full Coverage Brightening Concealer. This product is a powerhouse. Foundation where? You don't even need it! The coverage is incredible and perfectly blends into my skin without the need to mix other products. I did not experience creasing throughout the day, and I was left with a flawless finish all day long. A bonus: It's a woman- and Black-owned clean beauty brand. What more could you ask for?
— Sarai Thompson, social coordinator
I've been hooked on Cuup bras ever since our team did a full review of the brand last year. I have a particularly difficult bra size to find — a 32H — and so any brand that has not-incredibly-ugly bras that could possibly fit me is something I just have to try. I initially fell in love with the brand's mesh styles, but this month I bought myself two bras from its new satin collection and I'm completely obsessed. Not only do I love the colors, but the fit and support are outstanding. If I had it my way, all of my bras would be from this brand.
— Rachel Lubitz, senior lifestyle editor
This month, I tried skiing for the first time ever. It was great! I had fun! But man, I have never been so sore in my life. Truly, I was limping and taking ibuprofen for days. A kind friend who I was staying with let me try out their Toloco massage gun in my time of need, and to my surprise, it was just as helpful as the Theraguns and Hyperice guns I've tried. I immediately bought my own via Prime, and every day since, it's been massage city.
— Chelsea Stone, senior editor
I've sworn by my trusty dual-monitor setup for years now, but after testing out Alienware's gorgeous 34-inch curved gaming monitor, I'm not sure I can go back. This massive display has a beautiful QD-OLED display that makes my favorite PC games look beautiful, and more importantly, offers plenty of real estate for me to multitask while working from home. It's not cheap at $1,299.99, but it's one of the best gaming monitors I've used — and the one I would buy for my home office.
— Mike Andronico, senior tech writer
I have used this room spray all month long and it's become my tried-and-true. It makes my whole room smell fresh and clean — but the scent isn't so strong that it gives anyone that passes by a headache. It's super affordable and comes in a variety of different scents too.
— Tyler Holender, social media intern
I had the absolute pleasure of tasting Talia di Napoli pizzas this month, which are Neapolitan-style pies made in Naples and shipped right to your door. The pies come frozen and all you have to do is pop them in the oven for about 10 minutes to have a delicious, piping hot meal. The pizza truly transported me right back to the center of Naples, Italy. The pies are crispy on the outside, gooey on the inside and have that authentic Naples taste to them. They're next best thing to booking a flight to Italy, though I'd also highly recommend doing that.
— Rosanne Salvatore, deputy editor
Nail salons stress me out and I wanted my nails to look nice for my birthday, so I picked up these Bare But Better nails from ImPress and I'm obsessed. They're super-easy to fit your nail size and apply. They've beaten the ultimate test of can tab opening and swimming and haven't budged in days.
— Lindsey Smith, associate editor
I can always count on Casetify for long-lasting, durable cases that will break my iPhone's fall when I inevitably drop it. But I especially love the unique design featured on the back of the case, which is also made from sustainable materials. It brings me good vibes and it makes for a cute mirror pic, too.
— Stephanie Griffin, senior digital content strategist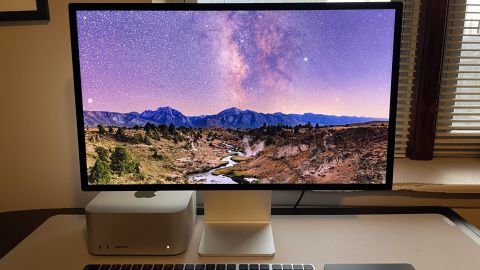 Apple's Studio Display isn't my favorite monitor I tested this month, but it's certainly one of the most impressive. Sure, its 5K Retina display looks great, but it's the monitor's excellent built-in webcam, speakers and microphone that allowed it to serve as a perfect all-in-one home office hub (and save me some valuable desk space). Its limited stand options are a bit of a bummer for the high $1,599.99 price, but it's well worth considering for creatives or folks willing to splurge on a great WFH accessory.
— Mike Andronico, senior tech writer
This mouthwash, which I bought from Amazon this month, is amazing because it keeps my breath smelling good all day long. The bottle is deceivingly big, so it lasts me plenty of time before I need to buy another. The brand also features a variety of flavors, so you can choose which one is best for you!
— Tyler Holender, social media intern
I've started playing around with my eye makeup a lot more this month. I've been using the Rare Beauty Discovery Eyeshadow Palette and it has countless easy-to-wear color combos that will look good on anyone. I also love that it's not a clunky palette and is slim enough to fit in my purse.
— Lindsey Smith, associate editor
$40 at Brightland

I've heard my coworkers repeatedly rave over the infused olive oils from Brightland and after trying a few for myself, I can confirm they did not disappoint. I've added this chili-infused oil to almost everything I've made this month — from salad dressing to bolognese gnocchi — and its simply taken my meals to the next level; it adds the perfect amount of spice to any dish, without overpowering it or making you reach for water. I've used it so much in March that it's almost time to restock!
— Stephanie Griffin, senior digital content strategist
I am always looking for hair products that add texture, grit and volume to my fine hair, and I've been impressed with this product from dpHue. I have used it after air drying my wavy hair to add some grit and hold, and I love that the fine mist keeps hair in place without making anything look stiff or greasy. I have also used it after a blowout to make it last a day longer, and once again I've been impressed with the results. The one downside of this product is its scent — I personally like it, but it is pretty strong if you are sensitive to fragrance.
— Hayley Saltzman, head of social
$69 at Urban Outfitters, $29 at Urban Outfitters and $59 at Urban Outfitters

While I love how equally cute and comfy this three-piece green seersucker set is, I'm also obsessed with how versatile it is; it can be worn while running an errand with white sneaks, or it can be rocked barefoot at the beach while lounging in the sand, thanks to its ultra-breathable, nearly weightless fabric. Each piece can also be worn separately, which absolutely makes it well worth the investment.
— Stephanie Griffin, senior digital content strategist
As the weather warms up, our hemlines get shorter and it's time to ditch the pants. While I don't think anyone needs to have smooth, hairless legs (you do you!), I like starting new after growing a nice layer of leg hair over the winter. Because no razor on earth could compete with four months of no shaving, I started using the Nair Bladeless Shave. Nair has come a long way, and this never irritated my sensitive skin and the smell wasn't overpowering. Best of all, in just 10 minutes I had smooth legs.
— Lindsey Smith, associate editor
$59 at Urban Outfitters and $55 at Urban Outfitters

Searching for the perfect spring set? You just found it. Part of Urban Outfitter's new Out From Under collection, this matching baby-blue, terry-cloth-like top and bottom outfit is both breathable and cozy, and also comes in the prettiest orange, green and tan hues. The top part even features a spacious front pocket, so I can store my phone or wallet when I'm on the go.
— Stephanie Griffin, senior digital content strategist
I am in LOVE with this product. I have added the rescue spray to my hair routine no matter how I'm styling it – air dry, blowout or curls—and it's just the best. I notice significant improvement in my hair's texture and shine whenever I use this spray, and the fruity scent is so good that I want to wear it as perfume. I didn't know I needed a "rescue spray," but now I can't imagine doing my hair without it. I LOVE this brand and I love this product. Try it — you won't regret it.
— Hayley Saltzman, head of social
$46 at Amazon and Oribe and $48 at Amazon and Oribe

There's nothing worse than leaving the salon with fresh, bright blonde hair only for it to turn yellow and brassy a couple of weeks later — but luckily, I've found THE solution! This hot pink pair from Oribe smells absolutely phenomenal and when I incorporate it into my hair care routine every other wash, my hair instantly feels soft and nourished, and best of all, looks as if I just walked out of the salon. I now understand the Oribe hype and will definitely be replenishing when I run out.
— Stephanie Griffin, senior digital content strategist
Much like the way many of us swap candle scents to fit the season (or is that just me?), I do the same with soap. I've seen rave reviews for the Smartly Citrus Grove soap — mostly due in part because it smells just like a certain popular candle from another brand — and it did not disappoint. It's such a fresh, clean scent that's perfect for springtime.
— Lindsey Smith, associate editor
I've struggled with acne for 18 years, and despite being in my 30s, I always have hormonal acne. The face wash I was currently using was not doing the trick, so I swapped it out for the cult classic CeraVe Renewing SA Cleanser. I'm already noticing a huge difference after just a couple of weeks and don't think I'll ever use another face wash again.
— Lindsey Smith, associate editor
I had seen this brand all over TikTok, and I was immediately intrigued by the concept. After trying out a few of the scents for several weeks, I'm sold. These more-affordable fragrances definitely smell as high-end as the pricier perfumes I typically wear — and the Woody Sandalwood is definitely reminiscent of my favorite Le Labo scent. I also love that the brand offers a quiz to help you discover new fragrances you might like — I liked 2/3 of my selects!
— Hayley Saltzman, head of social